*Editor-In-Chief Note: Changes has been made since the initial publishing of this article.  We received an anonymous tip that confirmed the issues between Anime Matsuri and Caitlin Glass/Matthew Mercer.  Also at the request of one of the people we mentioned in this article, we also removed her last name as well. -DJ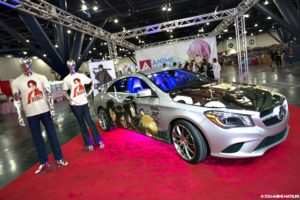 If you're following anything about this Texas-based convention and/or the Lolita community, I'm sure you've heard most of the stories… Allegations of embezzlement, sexual harassment, overall harassment, and the list goes on. Well, here's everything I dug up on Anime Matsuri, and we'll let you decide if this convention is really worth your time and money to attend.
Founded in 2007 by John and Deneice Leigh, Anime Matsuri quickly found success in the Texas anime and Lolita community. The Leighs were named Kawaii Ambassadors for the Japanese Lolita Association for all their involvement in said community. Everything went well and the convention seemed to be on a great path.
In 2012, the first hint of issues came to light. At Delta H Con, a small Texas convention, approximately 200 people showed up to the convention expecting to get in for free. They had been told by the Anime Matsuri founders from The Lady Spade concert that they could get in for free by showing tickets which was not agreed upon by Delta H Con. The smaller convention took a sizeable unexpected loss.
Another troubling story also came out of 2012 from a man named Mike Udompongsuk. He had known the Leighs for quite some time, initially joining their arcade, Planet Zero, which ended up closing due to financial issues. Hoping to help back the idea of a Texas convention with the Leighs, he lent money to Anime Matsuri in 2007 for the event center, but never saw reimbursement. The event center didn't either, but did claim it was finally paid off in 2013. Mike meanwhile lent more money in 2008 for a car specifically for Anime Matsuri, and once more never saw reimbursement. Still backing his friends, he lent more in 2009, for Miyavi to attend the convention, and even the music company got burned. Finally, in 2012, Mike Udompongsuk left the convention, and it's still unknown if he ever was finally paid back for everything he helped to financially cover. Other vendors were also not paid, went to court with the convention, and ended up settling outside of it.
In 2013, the World Cosplay Summit was held at Anime Matsuri. While an amazing show, there were allegations of missed payments and prizes, which caused the WCS to look elsewhere for a convention to hold it. Everything has been settled, once again, before any legal action occurred.
Anime Matsuri 2014 also had its issues that came to light. Free Press Houston reported "that abrupt panel cancellations and excessive queues were very common at the convention. Matsuri volunteers complained of cursory and inadequate training, a lack of translators for the Japanese guests, and frequent disruptions to schedules. One volunteer whose job was to chaperone a celebrity guest said her supervisor, whom she had never seen before, had not even checked her identification to see if she actually was who she said she was before allowing her access." Matt Mercer was unexpectedly made to emcee events and not paid. Caitlin Glass also refused to return after poor guest treatment, along with others.
Then there was 2015, which was the cherry on top of this messy cake. Sexual harassment allegations and overall mistreatment of the Lolita community came to light on a massive scale, hitting the news outlets.
Chokelate (real name Nina Reijnders), a German fashion model and maker of wigs popular with the Japanese Lolita community, shared that after John invited Chokelate to Matsuri, he asked for naked pictures. She shared the screen caps openly, and others started sharing their own stories. Another Lolita based in Houston also posted screen caps of unwanted sexual conversations with John in which he pressed her to tell him when she last had an orgasm. In that same post, she claims that while she was at an event with him, he tried to lift up her clothes without permission. When the Houston Press contacted John on this, he sent a statement saying he was "extremely sorry that my attempts at humor have offended some people" and that he had completed a $40 online course on sexual harassment from AJ Novick Group.
But wait, there's more!
John responds to all of this "As a disclaimer I would like to point out that I joke a lot with my friends or people I consider close. If you are offended by sexual innuendos, dirty talks or comments about boobs and orgasms, you should not be my friend. Online or offline. This means no disrespect and I would suggest not engaging in conversation with me. I act this way with my friends regardless of gender, and as my friend, you should make it perfectly clear that you are uncomfortable with my conversation. I would respect you enough to stop joking." Anonymous Lolita "N" comes forward about photo turned video shoot where John asked her to simulate oral sex on another male, followed by anonymous staffer "R" coming forward about being ignored until in Lolita, then receiving unwanted attention.
So with the sexual harassment allegations hitting the light, more stories start coming out of the Lolita community of just plain harassment. The best example is Stephany, also known as Buttcape, and everything she endured. She quickly found herself on the receiving end of John Leigh's wrath. Thai had broken ties with Matsuri after she attended the con as part of the Houston Lolita Community, recruited by Matsuri to help with Lolita tea parties, fashion shows and other programming. The lack of translators, late show times and poor planning, as well as John's alleged attempts to use the HLC as his personal advertising forum, soured Stephany on Matsuri and she resigned as a moderator from the HLC Facebook group. When Matsuri 2015 rolled around, Thai decided to try her own hand at organizing an event. Knowing that Matsuri had no activities planned on the Thursday before the convention, she put together Nightfall, a small reception and fashion show at the Crystal Ballroom near the George R. Brown. It was scheduled specifically for the evening so that there would be no overlap with Matsuri programming. According to a long blog by her, John quickly scheduled a pre-con party at the same time.
At the same time, indie Lolita designer Annika from Pop Princess, along with Elegy Clothing, purchased an Artist Alley table for 2015's Anime Matsuri. After reading the Artist Alley rules carefully, it appeared that she would be allowed to sell her handmade garments with no restrictions. Being cautious, she emailed to verify that her understanding was correct. After the first terse and unprofessional reply, Deneice and John decided to change the rules after her table purchase to ban indie designers from selling anything larger than accessories to minimize the competition to the Japanese brands in the Dealer's Room. Annika's request for a refund was denied until she threatened to go through Paypal for breach of contract. The new rules were never officially announced and many indie designers were unaware of the change until the refund date has passed and it was too late to change travel plans, causing massive headaches and lost revenue.
Shortly after the accusations of sexual harassment involving John started appearing online, he and Deneice flew to Hawaii, where they are hoping to expand Matsuri by holding a convention there. They eventually did, but there's not been another one since. Previously they've also sponsored Lolita events in Germany, looking to bring the Matsuri experience to Europe. At a meet-and-greet in Hawaii, Matsuri waved away the harassment allegations and prominent figures on the anime circuit such as Glass and the Japanese fashion model Minori cut ties with Matsuri and refuse to work with the convention.
In June of 2015, a petition in the Lolita community was made to strip the Leighs of being Ambassadors in multiple languages and detailing the stories already reported. Deneice Leigh remains in her position as a general manager and honorary Kawaii ambassador (America) with the JLA. While she remains in that position, it is unlikely that John Leigh's power within the JLA, nor his involvement with it, will at all be diminished, even though he stepped down from it. In May 2016, Anime Matsuri announced that the former CEO of Anime Expo, Marc Perez, would join the convention as COO after all the major allegations.
Things seemed to quiet down, with little blips of more stories here and there, up until recently. A Youtuber, and part of the Lolita community, Scarfing Scarves, came out and brought everything to the light once more. Several companies were joining Anime Matsuri for sponsorships and she stated how that seemed like a bad idea given the convention's history. They attempted to blast her off of Youtube claiming copyright infringement, which was proven false and her videos were returned. Then, on January 4, 2018, Scarfing Scarves was sent a cease and desist over everything, claiming copyright misuse, slander, and demanding a public apology. The community has come together to help her fight back, so we're all still waiting to see what happens in the future and really hoping for her to update us with a win.
It all boils down to the fact this convention has a history, both good and bad, and that while it is one of the bigger US conventions, is it worth your money? If it is, that's your choice… But personally, I'll look at other prospects without such a dark cloud over them. As for those asking if this is all made up, see for yourself: Houston Press stories are here and here, EGL Livejournal Community is here, Boycott Anime Matsuri is here, Anime Matsuri Expose is here, and finally, the Tale of Buttcape is here.